News, Timeline, Toulouse
- 02.12.2015
WIA-E Toulouse local group end-of-year event attracts more than 60 participants
More than 60 members and friends attended our 5th get together held at Airbus who also kindly sponsored the drinks reception afterwards.
The event started with a short word from our Toulouse committee co-president Catherine Lambert.  She then introduced one of our sponsors, Paul Lauriac from Toulouse Business School.  Paul commented on his role as a leader in higher education in Toulouse and presented the MBA in Aerospace – a unique plus for managers in our industry.  WIA-E Toulouse also enjoyed a great evening at TBS last summer where Corinne Delpuech presented a study on how women often underestimate themselves when entering the workforce.  One of our goals for 2016 is to establish a partnership with TBS to mentor young women in the MBA programme.
We shared the letter of support and encouragement sent by Simonetta Di Pippo, WIA Europe President.
Jennifer and Hélène presented the summary of our first year as an active local group and our goal to connect, share and inspire (presentation can be found here).  The key activities of each of our 4 working groups help us meet that objective:
Setting the example
Intergenerations
Outreach
Network of experts
Dr Elizabeth Estrada from Airbus Defence and Space presented her outstanding career and how she became an expert on materials sciences after choosing to leave a management role.
Our first WIA-E Toulouse award was given to Bruno Wiart who is in charge of the software centre of competence at Thales Alenia Space.  Bruno shared his views on diversity in his teams and how he has hired many women over the years.  He truly believes that teams are more creative, productive and collaborative working in an inclusive and diverse environment.
To close our event, the group enjoyed a rousing presentation by Marion Clignet, champion cyclist and all-around fun and inspiring woman.  She shared her story from childhood to her diagnosis with epilepsy in her early 20s.  In spite of the illness and lack of support from doctors and trainers alike, she became an Olympic champion and star athlete.  Marion encouraged us all not to be afraid of "dirty words" such as ambition and power!
Photos of the event can be found here: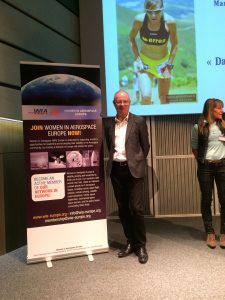 The WIA-E Toulouse group is looking forward to an equally inspiring 2016!