News, Rome, Timeline
- 11.05.2017
WIA-E Rome briefing regarding the Local Group Activity Plan 2017
On Friday, March 3, 2017, WIA-E Rome Local Group held its first annual meeting: this was the kick-off networking event allowing us to planned new exciting activities for the next months.
First of all, we discussed the opportunity for constituting a restricted Volunteer Committee who are committed to supporting and promoting ongoing events. The Volunteer Committee were thus composed by Maria Dalla Costa as Chair and Anastasia Giordana Bottai, Maria Messina, Alice Pellegrino, Fabiana Milza, Clelia Iacomino, Nunzia Paradiso. Their commitment will further the activities of the local working group as well as provide greater meeting opportunities for new members, updating multiple social network at once.
Below some photos of the event: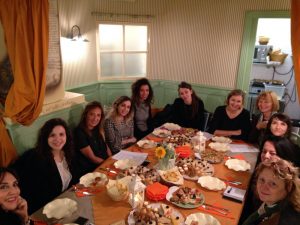 As usual, we want to support "Space Woman" and "Space Girl" in all levels of the aerospace sector, boosting them to enjoy the advantages of being a WIA-Europe member. We need therefore to line-up a well-built networking program for the future WIA events in Rome.
The first events of the WIA-E Rome Local Group symposium will be held in the afternoon of Monday 29 of May, 2017 – "Sala degli Affreschi" room, at Sapienza University, Aerospace Engeenering Department, via Eudossiana 18, Rome.
Please take also note about the 2017 edition of "Executive Course International Contract in Aerospace Industries" that this year will be held in Rome. All details will be available on news section.
Looking forward to meeting you!
WIA Rome Local Group