News, Timeline
- 05.10.2017
Gabriella Arrigo elected as the new IAF vice president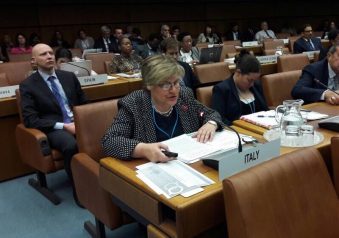 Gabriella Arrigo started working in ASI in 1991, at the former ESA Office, soon dealing with international affairs and relations, related, in particular, to extra-European countries. Within the Agency, she developed her professional career, de facto creating the Office first, and then the Unit for International relations. Member of the Italian delegation at the ESA's Committee for International relations since 1992, and at the UN COPUOS since 1994. Creator and founder, in 2009, of the first post-graduate Master's course on Space policies and institutions, held in Rome, Italy, at SIOI (Italian Society for the International Organization). In 2014, in Toronto, the International Academy of Astronautics (IAA) gave her the prestigious title of "Academic".
On 29 September in Adelaide, Australia, the General Assembly of the International Astronautical Federation (IAF) concluded itself, after seeing the renovation of the governance of the oldest global space association, born in 1951 and composed today by more than 330 members, including space agencies, industries, universities and aerospace associations.
Gabriella Arrigo, in charge of International relations for ASI, was elected by consensus as one of the new IAF Vice Presidents, for the years 2018-2020. She will seat at the Bureau with ESA's General Director, DLR Chair, Russian cosmonaut Sergey Krikaliev and other central space figures from the USA, China, Japan and South Africa.
"I am really honoured by this election, because it is the acknowledgement of a work lasted nearly 25 years, at the service of the international space community. I am particularly honoured because I can bring not only a specific experience, but the spirit too, the passion and the woman sensitivity to the Bureau. For this reason I thank all my colleagues at ASI, starting from the President and the women, colleagues of Italian Universities and of the industries that supported me during the election campaign, trusting me. Moreover, I thank those that, in compliance with the selection rules, voluntarily testified in favor of me during the consultations of the evaluation committee".