Events, Local Groups, Rome, Timeline
- 04.09.2020
WIA-E Rome invites to Webinar "From STEM to Stars" with Naoko Yamazaki
Event 04.09.2020
Location Zoom
WIA-E Rome is glad to invite you to join the second online webinar of the series titled "From STEM to stars", that will take place on the 4th of September 2020, from 13:00 to 14:00 (CET), with the support of the Zoom platform.
The official language of the event will be English to allow everyone interested to participate from all over Europe.
Naoko Yamazaki, former JAXA's Astronaut, will share with us her passion for Aerospace, everything that contributed to her choice to become an Astronaut, her experience during the STS-131 Space Shuttle's mission and on the ISS, as well as her role within Sorajo, the Japanese organization of women in aerospace. In the last part of the webinar, there will be a live Q&A session to allow you to directly interact with Naoko!
The link to the event's Eventbrite page to reserve your free ticket to join the webinar is sent via e-mail to all WIA-E members! If you have not received it yet, contact us at: rome@wia-europe.org. 
If you want to attend, but you are not a member, you can Join our association and register by following the instructions here.
Additional information to join the webinar and the detailed agenda will be shared in the days prior the event.
We are looking forward to your participation!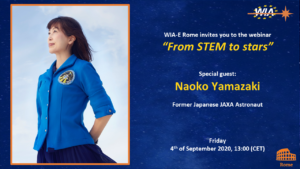 ---
Want to know more about the outcome of the event? Watch the relevant video on WIA-E Rome Youtube channel and read a briefing here.