Events, Local Groups, Rome, Timeline
- 09.10.2020
World Space Week 2020: WIA-E Rome invites to webinar "Space Efficiency & Mobility"
Event 09.10.2020
Location Zoom meeting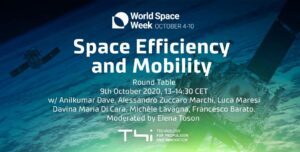 The WIA-E Rome LG is glad to share with you the online webinar "Space Efficiency & Mobility" organized by T4i Technology for Propulsion and Innovation in the framework of the 2020 World Space Week (WSW) that will take place today, 9th of October 2020, between 1pm and 2pm (CET). The event is free and will be held on the Zoom platform (the link is available at the Facebook page of the event).
What should a satellite be like and what services should it offer to guarantee the maximum contribution to basic human needs and to the protection of our Planet in the near future? Starting from this question and the "Sustainable Development Goals", the event will focus on discussing what types of services a satellite can offer and how these services can be more effective with the latest innovations in the propulsion systems domain, both for access to space and for in-space applications.
The moderator of the event will be Elena Toson, COO at T4i Technology for Propulsion and Innovation and member of our WIA-E Rome Local Group!
Looking forward to your participation!