Barcelona, Events, Local Groups, Timeline
- 21.01.2021
Webinar: The hunt for exoplanets with the next generation of space telescopes
Event 21.01.2021Time 19.00 CET
Location Zoom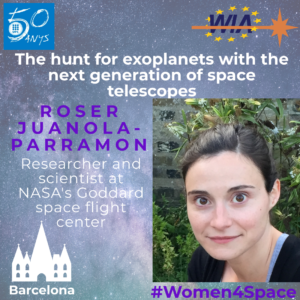 Roser Juanola-Parramon is a researcher and scientist at NASA's Goddard space flight center. She studied telecommunications engineering at the UPC, and has a master's degree in photonics and a doctorate in astrophysics.
Next Thursday, we have the pleasure to talk with her during the #Women4Space conference series. She will explain us the search for exoplanets and the challenges to observe and characterize them. She will introduce the different techniques that astronomers are using to find exoplanets around nearby stars, and the path towards finding life outside our Solar System.
The webinar is held in English.
Register at https://wia-europe-barcelona-roser-women-4-space.eventbrite.co.uk
We are looking forward to your participation!
---