Events, Madrid, Timeline
- 15.04.2021
WIA-E Madrid Local Group Launch Event
Event 15.04.2021Time 17:00 CET
Location Online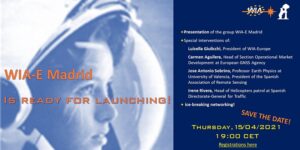 The Madrid WIA-E Local Group was founded in March 2021. We want to contribute to the WIA-E objectives in our region where the aerospace industry has a very relevant presence. A large number of very important companies and institutions are settled here and the sector is considered one of the drivers for the region's development. The space activity started around 60 years ago, and it represents 95% of the Spanish space sector with an annual turnover of 860 million Euros.
So far, the Madrid Local Group contains around 30 members and has a number of supporters including Airbus, Alter, INTA, Isdefe, GMV, Tedae, and Thales Alenia Space.
Our main goals are:
To give visibility of the women in the aerospace industry in the region, to develop networking and mentoring programs
To promote activities in schools and universities for young people to show how stimulating is to be part of the projects and missions carried out by the space industry
To inspire young girls and women and to encourage their interest in science, technology, engineering, and mathematics
To bring space to society and help to build a better and more sustainable world
Join our launching session to know more details about our activities and coming events!
Agenda for the WIA-E Madrid Local Group Launch Event
Welcome and WIA-E Madrid local group presentation.
Short talks from:
Luisella Giulicchi, WIA-Europe President
Carmen Aguilera, Head of Section Operational Market Development at European GNSS Agency
Jose Antonio Sobrino, Professor Earth Physics at the University of Valencia, President of the Spanish Association of Remote Sensing.
Irene Rivera, Head of Helicopters patrol at Spanish Directorate-General for Traffic
Networking: we will finish with some coffee-rooms to break the ice, answer your questions about the group and discuss anything you consider relevant.