Corporate Members, I – Platinum, News
- 25.06.2021
News from our Platinum Corporate Member: European Space Agency
Event 25.06.2021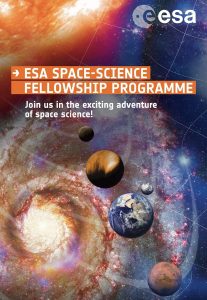 ESA's Space Science Research Fellowships 2022
 The ESA 2022 Space Science Research Fellowships are now open for applications! If you have recently completed or are close to completing a PhD in a technical or scientific discipline, then we invite you to join us at the forefront of unveiling the mysteries of our Solar System and the Universe!
ESA's postdoctoral Research Fellowship programme offers early-career scientists and engineers the possibility to carry out research in a variety of disciplines related to space science, space applications or space technology. Fellows in Space Science contribute to ESA's endeavour to explore our Solar System and the Universe in the fields of heliophysics, planetary science, astrophysics and fundamental physics. This is a unique opportunity to work with scientists and engineers at the cutting edge of space science and experience first-hand how ESA works with communities across its Member States to maximise the scientific return from our missions.
Research Fellowships in Space Science (SCI) can be undertaken at the following locations:
Get inspired
For 2021, ESA has selected 10 new Space Science Fellows to pursue their own independent research. Their areas of research span a broad range of topics, including mapping the surface of Mars, evaluating the habitability of exoplanets, probing the upper atmosphere of the Sun, and studying the assembly history of entire galaxies. More information about the Fellows and their research can be found here.
Research Fellows join the Department for Science and Operations (SCI-S), within ESA's Directorate of Science, where they work alongside the scientists and engineers that oversee space missions from the study stages to end of operations and maximise the scientific return of the missions for the benefit of humankind.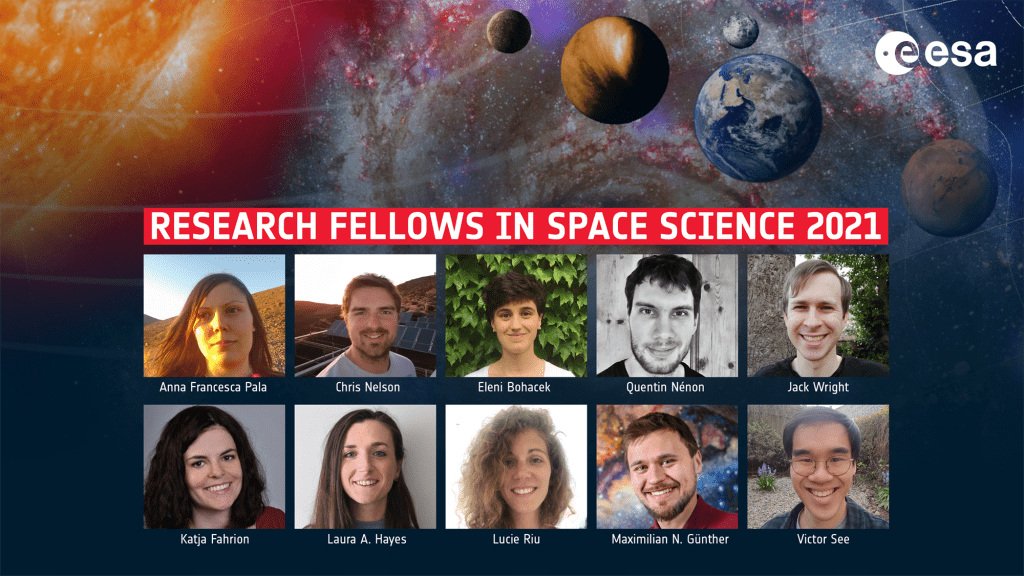 To apply
Applicants should have recently completed or be close to completing their PhD in a technical or scientific discipline.
Approximately 12 positions are available for the next selection. There are no pre-defined projects: applicants are invited to prepare an independent research proposal for a project based on their academic interests and expertise.
For further details on the candidate requirements and to submit your application, click here.
More information on the ESA 2022 Space Science Research Fellowships can be found here.
Deadline for applications: 27 September 2021
 ESA is an equal opportunity employer, committed to achieving diversity within the workforce and creating an inclusive working environment. Applications from female scientists are encouraged.
Life at ESA
A stimulating and inspiring working environment is just one of the benefits of employment at ESA. Other advantages include competitive salaries, a positive work-life balance, flexible working arrangements, relocation support in terms of house searching, and comprehensive health cover under ESA's social security scheme. Learn more about life at ESA and what we offer.
Be the first to hear about new opportunities at ESA by subscribing to our careers news or setting up a job alert.
#ESArecruits