Corporate Members, I – Platinum, News
- 18.01.2022
Brand-new ESA Junior Professional Programme: Apply now
Event 18.01.2022Time 12:00 GMT
Location Online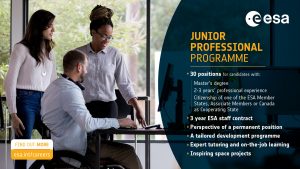 Brand-new ESA Junior Professional Programme: Apply now
Positions are now open for Junior Professionals! Do you have a strong interest in space? Do you aspire to channel your knowledge, interest and experience into a career in the space sector? Open to Master's degree graduates with two to three years of professional experience, this programme offers a three-year placement with the opportunity to join ESA's permanent workforce upon completion of the assignment. If you have a Master's degree with two to three years of professional experience, this could be your unique launch pad to a career at ESA.
Florence Loustalot, Talent Acquisition Specialist at ESA, tells us more about the programme and tips to apply:
This is the first time that a programme for junior professionals is launched at ESA. Can you tell us a little more about it?
The Junior Professional Programmes complements the spectrum of the existing entry-level programmes; it has been designed to meet both ESA's current requirements, challenges and needs for new talent as well as the expectations of the younger generations who are seeking inspiring missions, attractive jobs and the possibility to learn and develop.
One main goal is to foster diversity, particularly with regard to geography, gender and generation. With the JPP, we are also aiming to attract and retain talent in future key areas in order to expand and renew the pool of highly skilled profiles in the Agency. Also fundamental to the programme is the integration and development of the Junior Professionals through, for example,on-the-job learning, a rotation scheme and networking, always keeping in mind the JP's long-term role and career in the Agency.
In which areas are you looking to hire?
Positions are open in areas that are currently considered to be essential as well as those that are predicted to be essential in the coming years. These include artificial intelligence, quantum technologies, cybersecurity and commercialisation.
What are the requirements to apply?
Candidates must have a Master's degree and two to three years of relevant professional experience in order to be eligible to apply for the JPP. Former participants in ESA's entry-level programmes (Young Graduate Trainees, National Trainee or Research Fellow) can count their time spent at ESA as part of the experience requirement. Candidates must be citizens of one of the ESA Member States, Associate Member States or Canada as a Cooperating State.
The JP opportunities are now open for candidates to apply. The preselection and interview phases will run from approximately mid-January until March and the successful candidates are expected to take up their Junior Professional positions at ESA in May 2022.
Any tips to share for candidates interested in applying?
Identify the opportunity that most appeals to you, the one you think is really in line with your background and interests. Try to be clear and to the point while telling us enough about yourself and especially make sure you really communicate your motivation for applying. For the preselection and final interview phases, be prepared and be yourself!
Find detailed information on the Junior Professional Programme page and answers to your most common queries on the dedicated FAQ page.
ESA is an equal opportunity employer, committed to achieving diversity within the workforce and creating an inclusive working environment. We welcome applications from all qualified candidates irrespective of gender, sexual orientation, ethnicity, beliefs, age, disability or other characteristics.
This is your opportunity to launch your career at ESA where space awaits you!
Life at ESA
A stimulating and inspiring working environment is just one of the benefits of employment at ESA. Other advantages include competitive salaries, a positive work-life balance, flexible working arrangements, relocation support and comprehensive health cover under ESA's social security scheme. Learn more about life at ESA and what we offer.
Be the first to hear about new opportunities at ESA by subscribing to our careers news or setting up a job alert. Follow us on social media and spread the word. Find your place in space at ESA!