News
- 16.01.2022
Call for abstracts for the Improve Space Operations Workshop (ISOW – 2022)
Event 16.01.2022
Location Online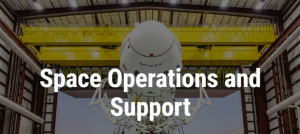 The Annual Improving Space Operations Workshop 2022 Call for abstracts is now open!
The conference theme for 2022 is Next Generation Space Operations: Accelerate Change, Expand Platforms. The workshop provides the opportunity to learn the latest trends and developments from experts and researchers actively engaged in the aerospace industry. Please submit your abstract for the opportunity to participate in the program and enhance the future of the industry.
The AIAA SOSTC is a highly reputed international committee that addresses all types of space operations, including manned and unmanned space operations from low Earth-orbiting to deep-space systems. For the past 25 years, the AIAA SOSTC has organized a yearly workshop.
The forthcoming workshop is planned to provide a variety of papers dealing with burgeoning space operational activity. The workshop will provide an opportunity for members of the space community to present the results of their recent activity so that the whole community can benefit. On that behalf, submitted papers should be focused on: the status of recent activity; analysis of operational issues; or future direction and plans. While no area of space operations is to be excluded, it is intended that the workshop will provide community dialog in, at least, the following six areas: (1) specific vehicle component and systems; (2) launch site and local community relations; (3) governmental and legal issue status and concerns; (4) inter-community relations between: U.S. Government (NASA, FAA, DoD); U.S. commercial operators; and International Governments; (5) general business, traffic, resource supply chains; and (6) existing and new application areas from local Earth applications, to the Moon, Mars, and beyond.
Abstract topics may be related to but not limited to the following:
Satellite operations (constellation, formation flying, CubeSat)
Human space flight operations
Space tourism and level of autonomy in operations
Reusable launch system operations
Lander/ rover operations for the Moon
Interplanetary space operations
Space Debris Mitigation, SSA, STM, and Space Policy
In-orbit maintenance and servicing
Manufacturing in space
Mission planning and operation systems
Challenges & scope of improvement in conventional space
operations
Digitalization in space operations
Software technologies to improve space systems design process
Interactive DEMOs session elevator pitches
Opportunities for entrepreneurs in space operations
Satellite operations for the Moon
Legal & Regulatory Provisions in Space
Point-to-point Horizontal Launch Systems
Critical issues identified for space operations
Find out more here and submit abstracts to the ISOW 2022 Program Chair, sweetypate@gmail.com