Partner
- 02.03.2023
IEEC (Institut d'Estudis Espacials de Catalunya)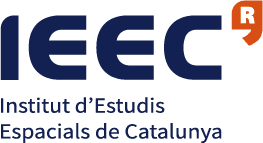 The IEEC (Institut d'Estudis Espacials de Catalunya) is a research institute that studies all areas of space and space sciences, including astrophysics, cosmology, planetary science, Earth observation, and space engineering. Its mission is to push the frontiers of space research from the scientific and technological domains for the ultimate benefit of society.
The specific objectives are to:
Promote astronomical and space research
Become an internationally recognized center in order to attract talent and foster collaborations both locally and worldwide
Be an efficient agent of knowledge, innovation and technology transfer in its field
Carry out science awareness to society by communicating scientific culture
The IEEC ranks among the best international research centers, producing a large number of high-impact publications and leading key world-class projects. This is the result of over twenty years of top-quality research work in collaboration with the top international institutions. The IEEC also develops instrumentation for multiple space missions thanks to a team of engineers with extensive experience in the aerospace sector and in sectors with a high value in innovation. As a a private non-profit foundation, the IEEC can have a versatile relationship with private industries and companies that ultimately fabricate the qualified flight hardware.
The IEEC was established in February 1996 a private, non–profit foundation to foster space R&D in Catalonia. It currently has a Board of Trustees composed of the Generalitat de Catalunya, the University of Barcelona (UB), the Autonomous University of Barcelona (UAB), the Polytechnic University of Catalonia (UPC), and the Spanish Research Council (CSIC). The IEEC also belongs to the Institució CERCA – Centres de Recerca de Catalunya. The IEEC is structured in the form of four Research Units, which constitute the core of the R&D activity. Each of these units was created and is governed by the rules of one of the academic institutions that are members of the Board of Trustees. The Research Units are:
The agreements between the IEEC and the academic institutions in the Board of Trustees allow for the exchange of personnel and funds. Scientists and technicians from the Research Units can simultaneously act as members of their institutions and as members of the IEEC upon their approved affiliation.
The IEEC has a Director, nominated by the Board of Trustees, who is assisted by a Management Team. In line with a confederate structure, the organization of each Research Unit is independent and the four directors are members of the Board of Directors. Further, an external Scientific Advisory Board (SAB) is nominated by the Board of Trustees. Its role is to evaluate the quality of the scientific and technical outputs of the institute and advise on the strategic planning of the institute as well as the overall organization.