News, Timeline
- 10.03.2014
Simonetta Di Pippo Appointed the Director of the UN Office for Outer Space Affairs
We are very pleased to announce that the UN Secretary-General has appointed the WIA-Europe President, Ms. Simonetta Di Pippo (Italy) as Director of the Office for Outer Space Affairs (OOSA), United Nations Office at Vienna (UNOV).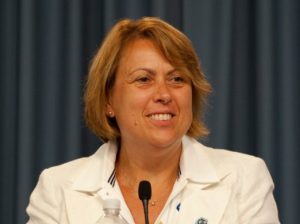 Ms. Di Pippo has an extensive and distinguished career with the Italian Space Agency, and is currently heading the European Space Policy Observatory in Brussels. Prior to that she worked for several years in various roles for the European Space Agency, including as Chair of the ESA Programme Board of Human Spaceflight, Microgravity and Exploration in Paris. In May 2008, she was appointed Director of the European Space Agency's Human Space Flight Directorate. The various fields covered in her 27 years of space-related activities include earth observation, advanced studies, space automation and robotics, space science, human exploration, debris and asteroids threat, space safety, commercial human spaceflight, Italian and European astronauts coordination, and the management of the biggest in-orbit masterpiece, the International Space Station.
In November 2006, she was appointed by the Prime Minister as member of the Italian National Commission for the dissemination of Italian culture abroad for a period spanning three years (2006-2009). She has also been teaching at the George Washington University, in various Master's courses around the world and at the LUISS (Libera Università Internazionale degli Studi Sociali "Guido Carli") business school in Rome.
Ms. Di Pippo holds a Master's Degree in Space/Astrophysics and Space Physics from the University of Rome La Sapienza and a Honoris Causa Degree in Environmental Studies from St. John University, Vinovo, Italy.
Ms. Di Pippo is a founding member and President of "Women in Aerospace – Europe". She also was knighted by the President of the Italian Republic (Cavaliere Ufficiale al Merito) in 2006. In 2008, the International Astronomical Union named asteroid 21887 "Di Pippo".
Ms. Di Pippo is expected to take up her assignment shortly.