News
- 02.10.2020
Diversity and Inclusion from SES' perspective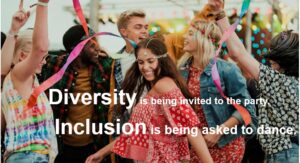 It is not uncommon that being a female in a technical industry or part of a minority group usually means being part of the few not the many. There are numerous accounts across the space industry where females and other minorities feel that they are underrepresented or feel they must work much more to earn respect than a white male historically would have to.
SES is looking to change this. With a whole new perspective, SES have kickstarted an Equality and Inclusion working groups scheme where SES employees from all over the world have the opportunity to have their voices heard and be part of implementing big change and breaking down stereotypes. 
With the focus on three defined groups: gender, ethnicity and general members of the scheme are placed into each of these to work together in order to tackle the issues and find solutions over the course of 8 weeks per rotation, ready to be presented to the Senior Leadership team for implementation.
We do believe actively involved leaders can help shape a more inclusive environment where people are encouraged to bring 100% of themselves to work. By unleashing the power of inclusion and by creating the safe spaces we trust that we can overcome the challenges and people will be able to flourish.   
SES is not the only company intent on making positive changes and although this is just being the beginning, it inspires hope for those that feel they are the minority and for future generations across the industry.