Events, Local Groups, Rome, Timeline
- 16.10.2020
WIA-E Rome invites to "From STEM to stars" with Ersilia Vaudo Scarpetta
Event 16.10.2020
Location Zoom meeting
" Never take NO for an answer, hard-work, passion and determination can make magic. "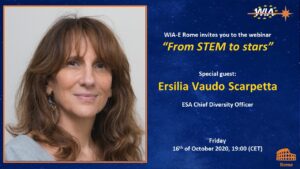 The Rome Local Group of Women In Aerospace Europe (WIA-E Rome LG) is glad to invite you to join the third online webinar of the series titled "From STEM to stars", that will take place on the 16th of October 2020, from 19:00 to 20:00 (CET), with the support of the Zoom platform.
The official language of the event will be English to allow everyone interested to participate from all over Europe.
Ersilia Vaudo Scarpetta, ESA Chief Diversity Officer, will share with us her passion for Space, everything that contributed to pursue such a brilliant career, her experience in international relations, elaboration of high-level strategies, preparation of decisions at Member States' ministerial meetings, network with think tanks. In the last part of the webinar, there will be a live Q&A session to allow you to directly interact with Ersilia!
Are you already a WIA-E member? You will receive an email with the link to the Eventbrite page of our event to reserve your free ticket to join the webinar! In case you have additional questions, you can contact us at: rome@wia-europe.org. 
Do you want to attend, even though you are not a member yet? Join our association and register by following the instructions here.
There will be many interesting events in the future!
Additional information to join the webinar and the detailed agenda will be shared in the days prior the event.
We are looking forward to your participation!