Barcelona, Events, Local Groups, Timeline
- 14.01.2021
Webinar: Drones to Save the World
Event 14.01.2021Time 19.00 - 20.00
Location Zoom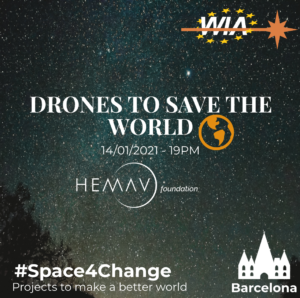 WIA-E Barcelona is inviting you to join the first # Space4Change talk, where you will have the opportunity to meet the HEMAV foundation.
They will explain the different social/humanitarian projects in which they are using drones and artificial intelligence to attack problems such as the search and rescue of people in the Mediterranean or the warning mechanisms for the fight against locust pests in the desert.
The webinar is held in Catalan / Spanish.
Register at https://wia-europe-barcelona-hemav-space-4-change.eventbrite.co.uk
We are looking forward to your participation!
---