Events, Local Groups, Rome, Timeline
- 04.02.2021
Webinar: The Equalizator
Event 04.02.2021Time 18:00 CET
Location Zoom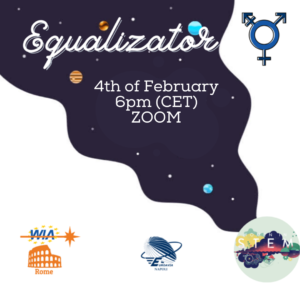 WIA-E invites you to the webinar "The Equalizator", organised in cooperation with Euroavia Napoli (EANa).
EUROAVIA Napoli "Umberto Nobile" is one of the leading Affiliated Societies of EUROAVIA (the European Association of Aerospace Students), an international organisation that was funded in 1959 with the aim of connecting students interested in aviation and space with the aerospace industry network.
Together with WIA-E Rome, they are organising an online webinar to promote a fruitful discussion on the gender gap, focussing on the situation in STEM and in the aerospace sector in Italy. Two WIA-E Rome members from their #GenderEquality research team have been invited to share their experience and knowledge in an interactive Q&A session that will be moderated by two members of EANa, open to all WIA-E and EUROAVIA members.
The event will be held in Italian.
Additional information and the event's agenda will be shared on WIA-E Rome social media (Instagram and Facebook) days before the event.
The Eventbrite event registration link will be sent via e-mail to all WIA-E members. For any questions about the event please write to rome@wia-europe.org.
We are looking forward to your participation!
---
Do you want to attend but you are not a member yet? Join our association