Events, Local Groups, Rome, Timeline
- 19.05.2021
Legal regimes of new Lunar programs
Event 19.05.2021Time 18:00 CET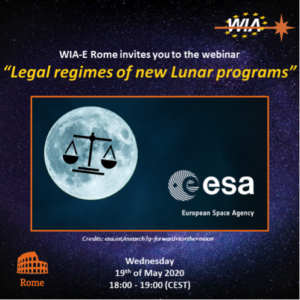 WIA-Europe Rome Local Group invites you to the technical webinar "Legal regimes of new Lunar programs".
The invited speaker for this online event is Marco Ferrazzani, Legal Counsel and Head of the Legal Services Department at the European Space Agency (ESA), based at its headquarters in Paris (France), who will share his experience and describe the legal regimes of future Lunar missions and ESA's activities to take care of both legal and programmatic aspects of space missions. In the last part of the webinar, there will be a live Q&A session to allow everyone to directly interact with our guest!
The Moderator of the event is Cristina Valente, Head of Institutional Key Account Management at Telespazio (Italy) and co-leader of the WIA-E Rome local group.
The official language of the event is English and it is open to everyone interested!
DATE: 19 May 2021
TIME: 18:00 CEST
To participate, register HERE, the link to the event will be sent to you via email.
We are looking forward to your participation!