Events, Local Groups, Madrid, Timeline
- 14.05.2021
WIA-E Madrid Webinar "Estrés Positivo"
Event 14.05.2021Time 17:00 CET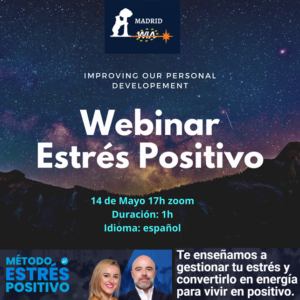 We cannot avoid stress in our life, but who controls whom?
Rebeca and Ángel López will tell us some tips on how to manage stress and turn it into energy to live positively. Essential in the face of uncertainty and pandemic fatigue caused by COVID-19.
They will talk about:
How to stop the automatic pilot that causes us mental pondering
The power of emotions and how to enhance positive emotions such as gratitude
What is stress
What factors make me explode and how are my stressors
Types of response to stress and the hormones involved in each of them
"Stress is part of our life, we can't help it but… who controls whom?"
Date: 14th May 2021
Time: 17:00 CET
Registration here.
This event will be held in Spanish – Este evento se realizará en castellano