Barcelona, Events, Local Groups, Timeline
- 10.06.2021
'Opportunistic Spaceborn EO' by Estel Cardellach
Event 10.06.2021Time 18:00 CET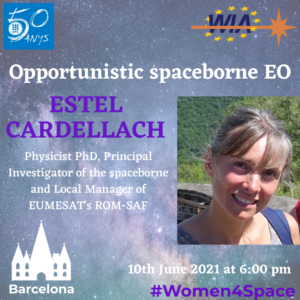 How can satellites be used for Earth Observation?
Estel Cardellach, a physicist, currently working at the Institute of Space Science (ICE-CSIC/IEEC) will this Thursday 10th of June be our speaker at #Women4Space talks.
She is going to explain to us how the data transmitted from the satellites can be used in different applications on Earth.
Besides her degree in Physics, she holds a PhD at Universitat Politecnica de Catalunya, and a PostDoc with the NASA/Jet Propulsion Laboratory (JPL) and Harvard University & Smithsonian Institution Center of Astrophysics (CfA).
Since 2005, her career has focused on developing new scientific applications of Global Navigation Satellites Systems (GNSS) for remote sensing of the earth besides other geodetic techniques.
If you want to learn more about how transmitted signals for other purposes or applications can be used for Earth Observation, don't miss this conference.
Register here.
And don't miss it!