Corporate Members, III – Silver, News
- 29.04.2021
News from our corporate member: SSTL Is Over The Moon!
Event 29.04.2021Time 12:00 BST
Location Zoom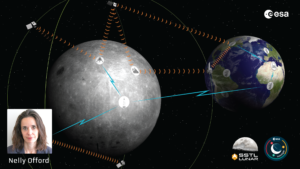 One of WIA-E Silver Corporate Members, Surrey Satellite Technology Ltd (SSTL), has been selected by the European Space Agency (ESA) to lead a Phase A/B1 Study under ESA's Moonlight initiative that will shape the service provision and infrastructure to provide sustainable commercial Lunar data-relay services for communication and navigation around the Moon.
Nelly Offord heads up SSTL's Lunar team and has been kept extremely busy lately leading SSTL's Moonlight study and also in parallel heading up the business opportunities for Lunar Pathfinder, which will be the first spacecraft in orbit around the Moon to commercially offer communication services to Lunar assets from 2024 onwards
It's an exciting time for lunar exploration with ESA, NASA and other international, institutional and commercial teams planning one-off missions or a permanent lunar presence. Nelly believes that a shared communications and navigation service infrastructure would reduce the ticket price of Lunar exploration and reduce the design complexity of individual missions, potentially making them lighter and freeing up space for additional payloads – and will also potentially act as a catalyst for future exploration.
ESA's Moonlight Phase A/B1 Study will define the service infrastructure and clearly lay out the development path for a constellation of Lunar communication and navigation satellites. The Study will characterise the complete end to end system, including the Lunar Space Segment, the Moon Surface Segment, the Lunar User Segment and the Earth Ground Segment.
A constellation of interconnected Lunar orbiters will enable surface missions operating on the far side of the Moon, without direct to Earth line of sight, to keep constant contact with Earth. It will also provide Lunar navigation signals to support critical mission phases such as precision landing of scientific equipment and the operation of rovers.
Kicked off independently prior to the Moonlight study, SST's Lunar Pathfinder spacecraft will be fully operational for commercial services operations by mid-2024, following a service-restricted period of commissioning and demonstration. The spacecraft will operate in an Elliptical Lunar Frozen Orbit (ELFO), for an operational lifetime of over 8 years.
SSTL is quite literally shooting for the moon this decade, and looking forward to chalking up a lunar mission to an impressive mission count in LEO, MEO and GEO.
For further information, follow: Twitter | LinkedIn | YouTube | Instagram.