Corporate Members, I – Platinum, News
- 29.04.2021
News from our corporate member: The European Space Agency is hiring!
Event 29.04.2021Time 12:00 BST
Location Zoom
We're called the European Space Agency, but we believe that space is for everyone: that our discoveries can be used for peaceful purposes for everyone on Earth, and for the wellbeing of our planet itself. And we believe in inspiring and challenging work, where at the end of each day we go home knowing we've made a difference. If you feel the same way, maybe there's a place for you at ESA? Why not find out more about working in this unique environment and how your expertise can make our aspirations reality?
---
HIGHLIGHTS OF CURRENT OPPORTUNITIES AT ESA: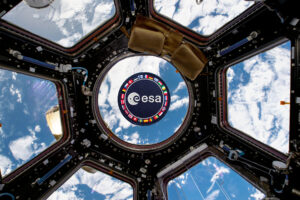 Director of Commercialisation, Industry & Procurement: Reporting directly to the ESA Director General, the Director of Commercialisation, Industry & Procurement will represent the Director General in all relations with industry and is responsible for elaborating and implementing the industrial policy of the Agency and its procurement rules and policies, as well as for conducting negotiations and managing procurements for all activities and programmes.
System Test Bed Manager: This role will support the full Galileo 2nd Generation (G2G) System Test Bed, related procurement activities, and its contribution to verification and validation of the G2G System.
Radio Navigation System Engineer: The successful candidate will provide support and consultancy to ESA projects, programmes and general studies in the field of radio navigation systems and techniques.
System and Operations (Security) Engineer: The successful candidate will have overall responsibility for system engineering and system security activities.
Ground Segment Common Platform Engineer: This position will support the procurement and development of the next generation of ground segment for Galileo.
Head of the Market Analysis and Business Intelligence Section: The successful candidate will be responsible for the analysis and business intelligence of markets and businesses relevant to connectivity and space solutions and for defining and implementing a related strategy to provide market guidance for the Directorate of Telecommunications and Integrated Applications' programme and business developments.
Education Scientist and ESAC Communication Officer: This position will coordinate and manage the Cooperation through Education in Science and Astronomy Research (CESAR) initiative and ESA's corporate communication locally.
Earth Observation System Engineer: The successful candidate you will be involved with end-to-end preparation of EO missions through appropriate engineering activities, working in close cooperation with staff within this and other D/EOP Divisions, notably Earth & Mission Science.
Galileo G1 Security Accreditation Engineer: This position will work in defining and maintaining the System Accreditation Certification Plan (SACP) for the full Galileo core infrastructure and managing of the Threat Scenarios.
---
While the positions above are a selection of the opportunities currently available at ESA, we have – and will have – much more. We regularly seek professionals from across the full range of the scientific and engineering disciplines, alongside business and administration experts, and we come together as a family from over 24 different countries. We work together in a diverse and supportive international environment to further Europe's space effort and push the boundaries of knowledge. Sounds interesting?
Play your part in inspiring missions at the heart of European space activities and APPLY NOW !
---
HOW TO APPLY
For a complete job description and to apply, please visit jobs.esa.int.
To keep up to date with our job opportunities, make sure you subscribe to our careers news and also set up a job alert on our recruiting site.
ESA is an equal opportunity employer, committed to achieving diversity within the workforce and creating an inclusive working environment. Applications from women are encouraged.
---
WE ARE THE EUROPEAN SPACE AGENCY
Our mission is the peaceful exploration and use of space for the benefit of everyone. We watch over Earth, develop and launch inspiring and unique space projects, train astronauts and push the boundaries of science and technology, seeking answers to the big science questions about the Universe. We are a family of scientists, engineers and business professionals from all over Europe working together in a diverse and multinational environment. We are dedicated to a united space in Europe and united Europe in space.
#ESArecruits
For further information, follow: Twitter | LinkedIn | Facebook |  YouTube | Instagram.