Barcelona, Events, Timeline
- 17.06.2021
End of season party with WIA-E Barcelona
Event 17.06.2021Time 16:00 CEST
Location Zoom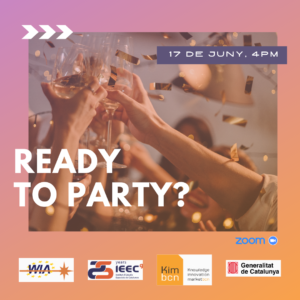 Do you wanna know what it is and why to collaborate with WIA-E Barcelona? Which are our values and why it is interesting to participate in a volunteer way in this organization?  
We want to close this magnific season and welcome summer, inviting you to our ending course online party on 17th June at 4 pm.  
We would like to share with you how WIA-E Barcelona can help you in a personal and professional way to reach an inclusive and fair society and to grow together in the space field!  
Fly with us! Register to the event HERE.
Date: 17 June 2021
Time: 16:00 CEST
See you there!