Corporate Members, I – Platinum, News
- 29.04.2021
News from our corporate member: Important milestone for ExoMars 2022
Event 29.04.2021Time 12:00 BST
Location Zoom
TWIN ROVER SALUTES ITS FELLOW ROVERS TO RAMP UP FOR THE MISSION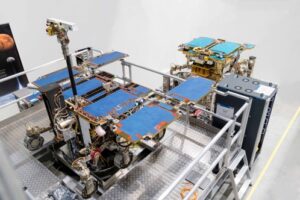 The ground test model (GTM) of the Rosalind Franklin rover for the upcoming ExoMars mission will soon leave Thales Alenia Space's Turin plant for a short trip to the Rover Operational Control Center (ROCC), in Altec. This model will now be put through its paces on the ROCC's Mars Terrain Simulator to make sure the rover is ready for its critical mission. Over the past few weeks the clean rooms at Thales Alenia Space's Turin plant simultaneously hosted three versions of the ESA ExoMars 2022 rover: the flight model (Rosalind Franklin), the ground test model and the structural-thermal model (STM).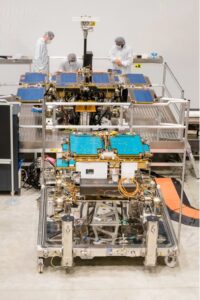 While the flight model (FM) is in the ultra-clean room, the GTM and STM had become very close as they both underwent activities in another clean room*, and they had to say "goodbye and good luck" as the GTM was readied for its trip to the Rover Operational Control Center.
Once installed on the Mars Terrain Simulator, the GTM will navigate over a terrain designed to simulate the Martian environment. These operations are controlled by Thales Alenia Space's engineers, along with their counterparts from Altec.
The Rover GTM plays a crucial role. It will act as the "Earth twin", providing operational support for its Martian counterpart from the friendly confines of Earth. All operations to be performed on Mars by the Rosalind Franklin rover will be validated by the GTM on Earth, using identical instruments. It will stay active in the control center to support the actual mission, working with the Thales Alenia Space team that developed it so they can act promptly in critical situations.
The Rosalind Franklin flight model, safely mated to the descent module and protected by its shield, is under test in Thales Alenia Space's ultra-clean room. Once this phase is completed, it will be transferred to our plant in Rome, where it will undergo several tests in a thermal-vacuum chamber to verify its cleanliness. This operation is designed to drastically reduce any possible organic contamination inside the ALD – a key to meeting the main scientific objective of the mission, namely to determine whether there was ever Life on Mars!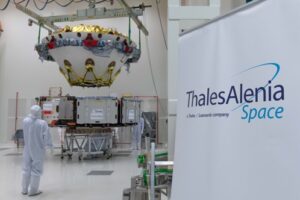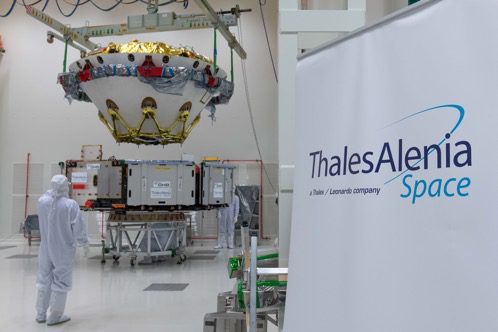 © Thales Alenia Space *The structural-thermal model in the past months was subjected to a series of demanding tests to check that the rover was apt for operation in the daunting space environment.