News, Timeline
- 25.06.2021
Symposium "Donne tra le Stelle" in June & Space Adventure Show since July 10
Event 25.06.2021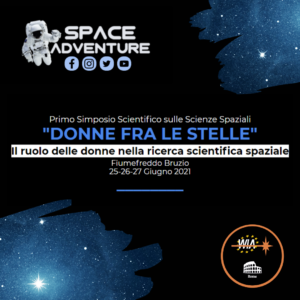 We are pleased to announce that our Rome Local Group will be present with its own exhibition stand at the "First Scientific Symposium on Space Sciences – Women among the Stars" to be held in Fiumefreddo Bruzio (Calabria) on 25-26-27 June 2021.
The symposium, with the patronage of Thales Alenia Space, Telespazio and the Local Group of Rome of Women in Aerospace-Europe (WIA-E Rome LG), will focus on the role of women in scientific research and in the space environment.
Relevant speakers in the space field will participate in the symposium, such as cosmonaut Valentina Tereskova (in attendance), Prof. Amalia Ercoli Finzi (in video conference from Milan), astronaut Samatha Cristoforetti (via video message) and the Space Economy Manager for Observation and Navigation of Thales Alenia Space and Co-Leader of WIA-E Rome LG Annamaria Nassisi (in attendance). Detailed agenda on the link https://www.space-adventure.it/simposio.html
During the event, Alessia Gloder, as WIA-E Rome LG Committee Member, will represent our Local Group (in attendance) and will talk about WIA-E and the activities of our group which, with our members, represents the entire Italian territory.
Alessia will present the several initiatives that we are conducting for greater awareness on the issue of Gender Equality and for the promotion of STEM subjects through themed seminars and presentation of role models.
The WIA-E Rome LG will be also present with own corner for all the Space Adventure Show (www. space-adventure.it) duration.
For more information on the symposium, you can visit the social media pages (Instagram, @womeninaerospace_rome, and Facebook) of the Rome Local Group!
Symposium Dates: 25/26/27 June 2021
Space Advanture Show Dates: Since 10 July untin end of October 2021