III – Silver, News
- 18.01.2022
SES wins Diversity Award by IMS Luxembourg 2021!
Event 18.01.2022Time 12:00 GMT
Location Online
In October 2020, SES kicked off Diversity Day with a company-wide event and introduced their global employee-driven Equality and Inclusion Working Groups. At SES, we believe in doing the extraordinary in space to deliver amazing experience everywhere on earth. Making the world a better place is something that drives a lot of us at SES. We want to do this both within the company and for our customers. As such, we wanted our employees to take charge, feel empowered and drive changes from the grassroots.
The teams, now in their second rotation and consisting of three working groups– Gender, Ethnicity, and General– have worked together to push forth initiatives to make SES a more inclusive workplace. Their hard work and efforts have garnered SES a Luxembourg 2021 Diversity Award achievement!
The awards have four categories, and SES was one of sixteen organisations nominated this past February in the Communication and Values of the Organisation category. In April, we were one of three companies shortlisted in the category. This fourth edition of the Diversity Awards will highlight the growing involvement of private, public and associative organisations in this field.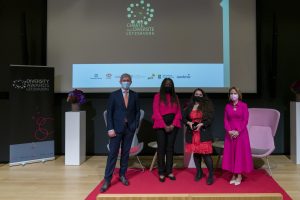 On Thursday, 20 May, SES was honoured with the 2021 Luxembourg Diversity Award in the category of Communication and Values of the Organisation for our employee-driven Equality and Inclusion groups. The award was presented by Minister Corrine Cahen of the Luxembourg Ministry of Family Affairs and Integration and the Greater Region.
We don't know yet where the train will take us to, but we believe this will be an enriching and rewarding journey that will make us a better and stronger SES.
WIA-E would like to congratulation SES on their fantastic achievement!