Events, Local Groups, Madrid, Timeline
- 09.06.2022
WIA-E Madrid: Copernicus, sentinels of the environment
Event 09.06.2022Time 19:00 CET
Location Cultural Factory of Tres Cantos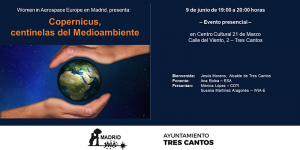 On June 9, from 7:00 p.m. to 8:00 p.m. CET, and on the occasion of World Environment Day, Women in Aerospace Europe in Madrid presents its event "Copernicus: Sentinels of the Environment"
Copernicus is the Earth Observation Program of the European Union, whose objective is the observation of the Earth and its environment, for which it has a set of its own satellites (the Sentinel families). The European Commission coordinates and manages the programme, in whose execution the Member States, the European Space Agency (ESA), the European Organization for the Exploitation of Meteorological Satellites (Eumetsat), the European Center for Medium-Term Weather Forecasts, the agencies of the EU and the company Mercator Océan.
DIARY:
19:00 Welcome by Don Jesús Moreno , Mayor of Tres Cantos
19:10 Opening by Susana Martínez (WIA-E Madrid)
19:15 Presentation of the Copernicus program and the Sentinel 8 mission with the participation of:
Mónica López , Delegate of Spain for the ESA Earth Observation Program. Spanish representative in the Copernicus Committee (Center for Industrial Technological Development)
Ana Bolea Alamanac, Project Manager of the Sentinel 8 LSTM Mission (European Space Agency)
19:45: Colloquium
20:00 Closing
The event will take place in the Cultural Factory of Tres Cantos (former Municipal Center March 21). You can check the location here .
Do not miss it, we'll be waiting!
Acknowledgments: Municipality of Tres Cantos
This event will be held in Spanish