Awards & Grants, Events, News, Student & Young Professional Award Winners
- 29.09.2022
WIA-Europe Grant & Award Winners 2022
We are pleased to announce the winners of Women In Aerospace Europe Grants and Awards 2022.

WIA-E GRANT WINNERS
Within the Grants & Awards programme, WIA-Europe provides Grants to cover attendance at aerospace workshops and conferences and is intended to support new and young colleagues with their first experiences in presenting a paper in an international context.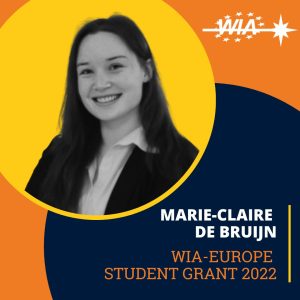 Marie-Claire de Bruijn is a law student at the University of Cologne in Germany, where she enriched her enthusiasm in space law. She currently works as a Research Fellow at BHO legal, a technology law firm which is inter alia specialised in Air and Space Law and is based in Cologne. Marie-Claire aspires to contribute to an efficient, inclusive and sustainable future and meet diverse minds from all over the world. For these reasons, she now volunteers as a Coordination Manager at the World Space Week Association which promotes the World Space Week, an international celebration of science and technology and their contribution to the betterment of the human condition. Additionally, she volunteers as a Business and Economy Lead at Domi Inter Astra, an Initiative under the Space Exploration Project Group of the Space Generation Advisory Council and winners of the Moon Design Challenge. She also wanted to meet and compete against other ambitious students when she took part in the Manfred Lachs Moot Court Competition in 2022. Here, her team was awarded with the Certificate for the Best Memorial in the Europe Rounds. Being also interested in engineering fields of the space sector, she progressively involves herself in this area as well as with the people active in corresponding fields. Marie-Claire co-authors the paper "A Universal Model on Space Policy: Framework for Emerging Nations in Space with Case Studies on India, Poland and Africa" which has been accepted for oral presentation at the upcoming IAC 2022 in Paris. Within this interactive presentation, Marie-Claire anticipates to meet gripping assessments.
Yedida Jyorthirmai pursues her Masters in International Air Transport Operations Management, ENAC- Toulouse, currently working on UAVs as a Summer Intern at MENAPS, Toulouse. Growing up as a girl in a small village in India, Yedida was never exposed to aviation up close. Whenever she heard an airplane in the sky, she would always rush to her building's terrace to watch the plane, which is how she fell in love with aviation. This growing passion for aviation made her move from a place where girls get married at a very young age and stop concentrating on their careers, to the heart of European Aviation -Toulouse. Yedida presented a paper at the International Conference on Research and Advance in Mechanical Engineering, which was later published in the conference proceedings on the topic of "Design and Analysis of Upstream Air Deflectors for Increasing Wind-Turbine Efficiency". She has also co-authored a paper on Vibration Analysis of Functionally Graded Materials as a Rocket Nose Cone which she presented at the NCMDAO conference conducted by VSSC ISRO. Yedida is one of the founding members of the Aeromodelling Club at SASTRA (ACS), a Core member of the school of mechanical's Tech fest organizers Sakshma19, and an organizer of south India's biggest tech fest, Daksh19. Along with becoming a leader in the aerospace domain, Yedida wants to become a beacon for every single girl to show them the path to pursuing their dreams and achieving their goals.
WIA-EUROPE AWARD WINNERS
The WIA-Europe Student & Young Professional Award in the amount of €1,000 is presented to students or young professionals based on their essay.
Katharina Siems is a doctoral student in the Research Group for Aerospace Microbiology at the German Aerospace Center (DLR) since 2019. She has a Bachelor's degree in biology and a Master's degree in microbiology, during which she started working in the research group at the DLR. In her research, Katharina studies biofilm formation of human-associated bacteria under spaceflight conditions. She already published several peer-reviewed scientific articles and presented her work at international conferences. Her focus is on the stress response of Staphylococcus capitis to the extreme conditions of space and how to use this knowledge to ensure the health of astronauts. In course of this, Katharina is a leading scientist in the ESA spaceflight project BIOFILMS which is testing innovative antimicrobial surfaces. As an active member of the scientific community she also contributes to science outreach activities for students and the public. To gain more experience and learn new methods in the field of space microbiology, Katharina did a research stay at the Texas State University in San Marcos which was supported by the WIA-Europe.
Dr. Olivia Borgue joined the Interdisciplinary Centre for Security, Reliability and Trust (SnT) in Luxembourg in October 2021, as postdoctoral research associate for the Space Systems Engineering (SpaSys) research group. She specializes in spacecraft design and is currently working on the topics of miniaturized satellites, in-space manufacturing, and space debris observation systems. She obtained a PhD in the topic of Space Systems Engineering from Chalmers University of Technology in Sweden in 2021, a Master of Science in Mechanical Engineering from the same country, and a Degree in Mechanical Engineering from Balseiro Institute in Argentina. Before moving to Europe, she worked in a research station in Antarctica for 12 months as a mechanical engineer and expeditioner. Earlier, she worked as a research engineer in the topic of uranium enrichment implementing high power lasers, at the National Commission of Atomic Energy in Argentina. Besides her work at SnT, Dr. Borgue serves as an expert and ISO standard developer for the ISO/TC 172 "Optics and Photonics"/AHG for VR/AR. She has also been a lecturer and course developer for the International Space University (ISU) and the Limitless Space Institute (LSI). In her free time, she volunteers for the Institute for Interstellar Studies (i4is) and enjoys hosting and participating in popular science events. She is also a certified helicopter pilot and rescue diver.