Events, Local Groups, Rome, Timeline
- 07.11.2022
WIA-Europe Rome: Aperitif with @spacexenia: what is personal branding and how does it shape our lives?
Event 07.11.2022Time 18:30 CET
Location Online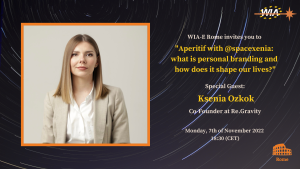 The Rome Local Group of Women in Aerospace Europe (WIA-E Rome LG) is glad to invite you to the interactive "Aperitif with @spacexenia: what is personal branding and how does it shape our lives?"
The event will take place on the Zoom platform from 18:30 to 19:30 (CET) on 7th November 2022. The official language of the event will be English.
The special guest of the event is Ksenia Ozkok, AKA @spacexenia. Ksenia is a mentor of space and tech leaders and a co-founder of Re.Gravity – boutique marketing agency for space-related projects. She helps purpose-driven leaders build their personal brands and develop businesses by leveraging digital platforms. Ksenia is the author of the course "Re.brand Your Space Identity" tailored for space entrepreneurs, experts, young professionals, STEM students, and communicators. She is building a global space leaders community that drives an increase of space outreach.
During the event, you will hear about Ksenia and her journey to become a mentor for space professionals about personal branding. Moreover, she will help you distinguish your own value and what you bring to the table by sharing some tips on how to build an outstanding personal brand. Together, you will create a Roadmap that will become the pillar of your entire path.
The moderator of the event is Alessia Gloder, CEO at Astradyne and WIA-E Rome LG member.
Are you already a WIA-E member? The link to the Eventbrite page is included in the WIA-E digest which is sent via email. This will give you the chance to reserve your free ticket to join the event! In case you have additional questions or you have not received it, you can contact us at: rome@wia-europe.org.
We are looking forward to your participation!