Corporate Members, II – Gold, News
- 18.01.2022
Thales Alenia Space – The people behind the success of the Artemis I mission
Event 18.01.2022Time 12:00 GMT
Location Online
The Artemis I mission concluded successfully with the splashdown of the Orion capsule, a huge achievement celebrated in Thales Alenia Space: a mission full of memorable moments, tests and data, leading up to the Artemis II mission that will bring astronauts close to the Moon. And then comes Artemis III and the return of humans to the Moon. Thales Alenia Space is deeply involved in this mission. Starting in 2015, our Turin-based engineers and technicians began to work on the backbone of Orion and the subsystems that are an essential part of the European Service Module, ensuring a safe crew environment throughout the mission.
The Artemis I mission aims to prove the robustness of the structure, its ability to protect against meteoroids and debris, and also to show that the radiators, thermal system and consumable storage system operate correctly. No manned system before Orion has ever gone this far from the Earth. Artemis I was a critical mission, since it's the only way to test the effects of radiation and the deep space environment, not only for humans but also on all subsystems and components in the capsule and service module. Our top priority: to protect the astronauts' health and safety.
To better understand the meaning this mission, we asked Annamaria, Fabio, Federica and Dario, representing more than 150 Thales Alenia Space professionals involved in the program, to share their experiences.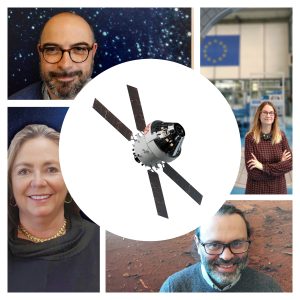 Annamaria Piras, Head of Low Earth Orbit Programs: "The Artemis I mission is a unique success that marks a new era for space exploration, allowing humanity to return to the Moon and go beyond it, where no human has gone before. To be part of it is a great honor, with strong emotions that touch us all. The return to the Moon now has a completely different meaning from the landing in 1969. We no longer plan just one-week missions, but are now building the capability, step by step, to live in deep space, and even go to Mars in the upcoming decades."
Fabio Burzagli, Project Design Authority for TCS, CSS and Structure subsystems: "This mission is living proof that the 4P rule works: Practice, Patience, Perseverance and Passion. Growing up with "Space: 1999" was inspirational and in hindsight a nice premonition. To be part of the project that will shape the "Artemis Generation" and give us a "lunar habitat" is really science fiction become science reality. It's enthralling and fascinating."
Federica Negri, TCS & CSS Technical Procurement Manager: "The success of this mission shows once again that it is possible for international teams to cooperate to meet huge technological challenges, for the benefit of all. It's a way to push ourselves beyond the limits of human outposts and it's a chance to restore a common consciousness of our place in the universe, just like the "Blue Marble" photo of the Earth did. But, let's face it, going back to the Moon is just cool."
Dario Saia, European Service Module Program Manager: "I was a boy looking at images of Apollo 11, now I'm part of this project aiming to bring humans back to the Moon. Sometimes, I still can't believe I'm part of such a great mission. To reach our goal, teamwork is essential and probably the most important challenge. Building strong relationships is the key, so we can work together to tackle the difficulties that are a recurring part of such a complex project. In the end, to do a good job, we need to enjoy our time working on this project. Our task for several years has been to deliver a best-in-class product. A sense of pride that we share within the team and also with friends who for various reasons are no longer with us."