Awards & Grants, News
- 06.05.2023
Winners of the Women In Aerospace Europe Awards & Grants Programme 2023
Event 06.05.2023Time 18:00 CET
Location Observatori del Montsec Sant Esteve de la Sarga 25632 Lleida Spain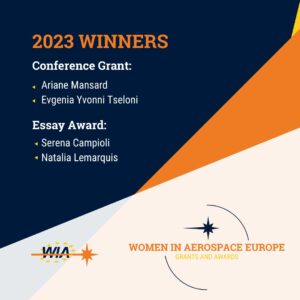 Women in Aerospace Europe (WIA-E) would like to congratulate the following winners of the WIA-Europe 2023 Grants and Awards!
WIA-Europe is devoted to providing support to its members through a variety of initiatives that strive to encourage upcoming talent and to support professionals dedicated to growing a gender-balanced aerospace community and who look to advance the aerospace industry as a whole. The WIA-Europe Awards & Grants program is designed to support upcoming talent, both young #professionals and students alike.
We are delighted to announce that the winners of the Women In Aerospace Europe Awards & Grants Programme 2023 are:
Ariane Mansard (Conference Grant)
Evgenia Yvonni Tseloni (Conference Grant)
Serena Campioli (Essay Award)
Natalia Lemarquis (Essay Award)
Watch this space for profiles of the 2023 winning cohort.
Congratulations to you all and thank you to all the candidates that applied. We look forward to welcoming your applications again next year!