Events, Local Groups, Timeline, UK
- 11.02.2021
WIA-E UK hosts a Ministerial Roundtable for the International day of Women and Girls in STEM
Event 11.02.2021Time 13:40-14:30 CET
Location Zoom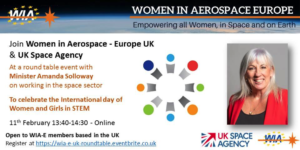 Join the Women in Aerospace – Europe UK Local Group and the UK Space Agency for a Ministerial Roundtable for the International day of Women and Girls in STEM on the 11th February from 13:40-14:30
To celebrate the International day of Women and Girls in STEM, Women in Aerospace Europe and the UK Space Agency are delighted to host a round table event with Minister Amanda Solloway.
Amanda Solloway MP is the Minister for Science, Research and Innovation, and a champion of the UK's vibrant space sector and the cutting-edge technology it develops. She is keen to hear from women at all different stages in their career, learn about their experiences, and explore how their stories can inspire an even greater number of talented women and girls to pursue a career in space.
Members of Women in Aerospace Europe based in the UK are invited to a round table discussion and share their thoughts and insight with the Minister: What attracted you to space? How can the sector, academia, and government work together to champion its diversity and increase it further?
The discussion will be co-chaired by Alice Bunn, International Director at the UK Space Agency & Liz Seward, WIA-E UK Local Group Chair.
The event is open to women at all different stages in their career.
To facilitate a strong discussion, places are limited at the event. There are 8 spaces available for WIA-E members based in the UK. Please register here.
---
Do you want to attend but you are not a member yet? Join our association