Barcelona, Events, Local Groups, Timeline
- 18.02.2021
Webinar: "Understanding the Universe" with Licia Verde
Event 18.02.2021Time 16:00 CET
Location Zoom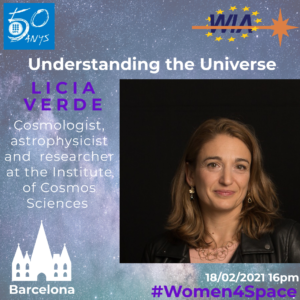 "We all know that the Universe started with a Big Bang, and that it is very big. But what do we know exactly and how do we know it? This is what cosmology is about and I will try to give you taste of it".
On Thursday, 18 February, we have the pleasure to talk with Licia Verde during the #Women4Space conference series. Licia Verde is a cosmologist and astrophysicist, researcher and lecturer at Icrea at the Institute of Cosmos Sciences (University of Barcelona). She is a reference in the study of dark matter and dark energy in the universe, and an example of 'it's possible' in a world where male rules still predominate.
Register here.
We are looking forward to your participation!
---
Do you want to attend but you are not a member yet? Join our association