Barcelona, Events, Local Groups, Timeline
- 26.05.2022
WIA-E Barcelona: "How do gases behave in microgravity?" #Women4Space Conference with Ioana El Kraye Ziade
Event 26.05.2022Time 18:30 CET
Location Online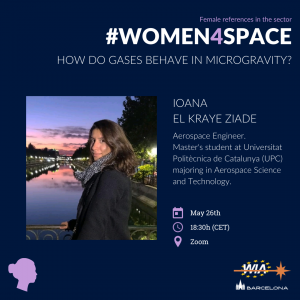 Ioana El Kraye Ziade is currently a Master's Student of Aerospace Engineering at the Polytechnic University of Catalonia (UPC) who loves experimenting, designing and building devices from scratch. During her Bachelor Thesis, she worked on controlling a drone using neural networks. Currently, she works in an exciting ESA Academy project to investigate whether the properties and behaviour of gases in microgravity can be modified using acoustic fields.
In the next online #Women4Space conference, she will talk about her experience and the obstacles that she, as a Lebanese/Romanian woman, had to overcome to be able to study what she was passionate about: space. She will also explain us her past and present projects and their possible applications in future satellites and spacecraft.
This event is open to all.