Events, Timeline, Toulouse
- 09.02.2023
WIA-E Toulouse – The keys to better manage your energy capital over time
Event 09.02.2023Time 18:30 CET
Location Zoom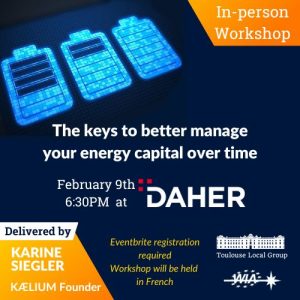 "I'm exhausted ! I have too much mental load! "
Did you have this feeling that your body can no longer keep up with the hectic pace of life?
The workshop "The keys to better manage your energy capital over time" offers everyone the opportunity to look into this engine that allows us to move forward every day. Karine Siegler, business coach, will first present to us the different types of energies that constitute us, their characteristics and limits. She will then give us keys to discharge and recharge our batteries to move forward in life as serenely as possible. An exchange between the participants and the coach will close this workshop.
Our corporate member DAHER does us the honour of welcoming us for the occasion at their Cornebarrieu site.
The workshop will take place from 6:30 p.m. to 8 p.m. A cocktail reception will be waiting for you on site after the workshop. Places are limited, register <<here>> before February 3rd!
Presentation of the speaker: Karine SIEGLER, Kælium founder and business coach for 12 years after a professional retraining, previously worked in corporate and financial communication for 18 years for large companies. Her most frequent assignments relate to high-stakes job-taking topics, personal and interpersonal communication, the relationship to conflict, team management and commitment,… as well as internal and external mobility. She is certified level 2 by the International Coaching Federation (I.C.F.) and teaches at the ACTIVISION coaching school in Toulouse and supervises coaches.