Events, Timeline
- 18.05.2022
WIA-Europe Week: Women in the C-Suite
Event 18.05.2022Time 13:00 CET
DISCUSSION: WOMEN IN THE C-SUITE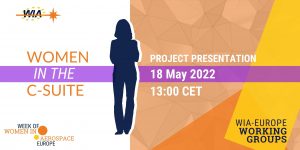 Presented during the World Space Week 2021, the >>White Paper has looked into roadblocks women experience when growing into top positions, and steps that can be taken to improve the representation of women in C-Suite roles.
In this event, the WIA-Europe Working Group invites you to a lively conversation on this topic.
After a short presentation of the international activities of the Working Group over the past few months, we will introduce the next stage of our work: The Peer Forum and an upcoming workshop for industry stakeholders.
Join us in a discussion about how organisations can thrive, not just survive, in the global space race by better leveraging their female leadership talent. We are looking forward to a lively audience and an interactive conversation!
Join the online event and get insights, strategies, and recommendations gained from interviews conducted with senior leaders, Women In Aerospace Europe members' personal experiences, and a range of research studies.
---
Register >>HERE
---